Bring food, water, toilet and medic to the Kampung Sudak
Part A: Mission for Kampung Orang Asli Sudak @ Royal Belum, Perak
Part B: Logistic & Meet up point
Part C: Briefing on 25 Aug 2023 at 6.30pm at Explorer @ Publika
A/ Mission
1. Bathroom & Toilet
Only 1 Bathroom and 1 Toilet for the whole kampung Sudak.
A. Propose to build 2 Cubicles of 4 x 8 feet Bathroom cum Toilet for this Kampung.
2. Main Access Bridge Re-Enforcement
This is the ONLY ACCESS for all the 3 kampungs and this bridge has been weakened by periodic flooding and overflowing of the Tremenggor Dam Water Level.
A. Propose to apply Engineering Principles to Strengthen the Foundation, Mount Steel Chequered Plates to the Surface of the Bridge.
Will involve Metal I-Beams, C-Channels, Bracing, BRC Netting, Scaffolding Pipe Side Railings, etc
These 3 Kampungs have been living for 5-6 years with this Shaky Bridge hampering Access to their villages.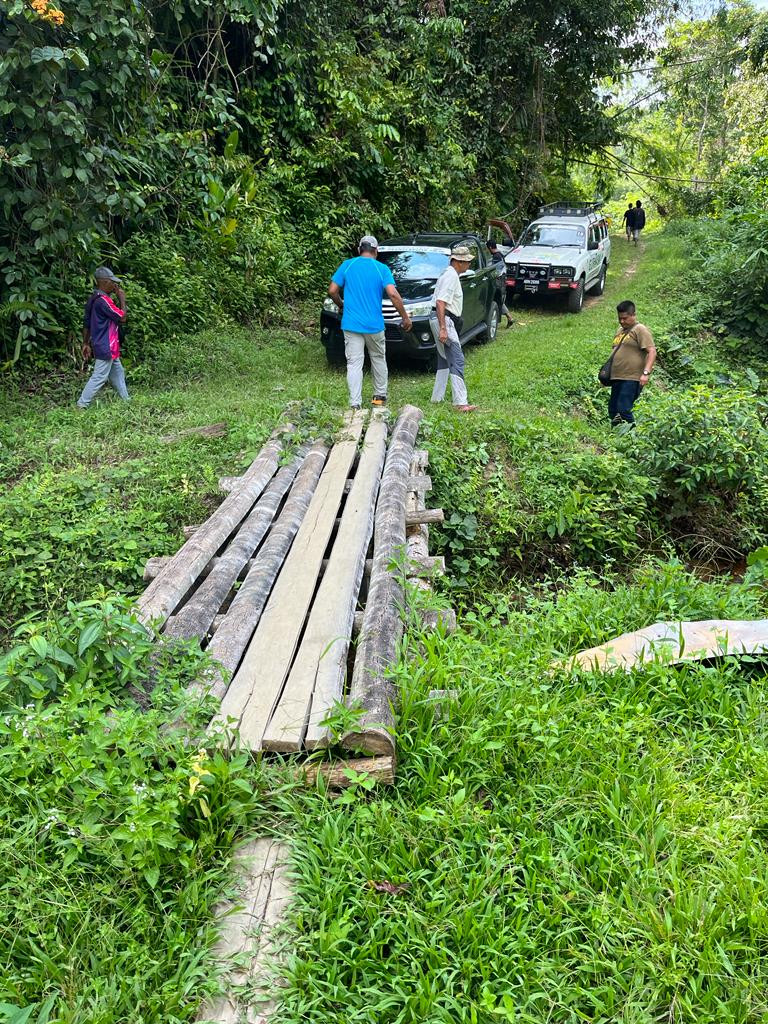 3. Food Support
Within 1 km, there are 3 kampungs with a total of 30+ families total population of about 200 Jahai Tribe Orang Asal.
A. Propose To send in all 93 cartons of RAH Rice/Dhal For these 3 kampungs.
B. Hopefully can add about 30 sets of Food items like Ikan Masin, Bawang, Korbis, Potatoes, Cooking Oil, Tepung, Gula, Teh, Garam etc
4. Medical Aid
Due to the Wobbly Bridge to these 3 Kampungs, access by Medical Teams have been a Challenge.
A. Propose to have our Medical Team set up for Consultations, Medicines :
1/9 Kg Sudak
2/9 Kg Chadak 1
3/9 Kg Chadak 2
Transportation will be needed to 2 other kampungs.
5. Water Supply 
Now the Whole Kampung rely on 1 pipe 1/2" from a hill about 100 feet up and about 400 feet away from the kampung.
A. Propose to Run a 2nd Water Source from same source 400 feet away to this kampung (hopefully) to a Tangki before Distribution to all houses. An Intake of 2" Poly Pipe to 1.5" to 1" to 1/2" up to the Tangki will be PERFECT to solve all Water Problems.
6. Solar Power for Electricity ⚡️
Nothing in the kampung now.
A. Propose to Install a Solar System for Electrical Power, sponsored by Allan Seah.
7. Collaboration with Kampung Digital 365
We have been approached by this organisation to work on Socio-Economic Projects for the Kampungs, so for this SUDAK Mission, they will be Recceing the suitability of Kg Sudak, under the
*Program Transformasi Usahawan *
to initiate :
Kerepek Ubi Kayu
Kerepek Pisang
Then they and / us will buy them and market to Corporations, Friends etc.
Then the Profits generated will be channel back to the Kampungs.
B/Logistics
Meet up point & date & time: R&R Perah on 31 August 2023, 9am
After the main convoy meet up at R&R Perah, the main convoy will roll to the school SK RPS Banun where you can park your car in the school. Then our 4x4 trucks can transfer volunteers into the kampung. If you are driving a 4x4 trucks, you may follow the convoy and drive into the kampung.
Food
We will set up a central kitchen to cook for all the volunteers. Your ticket fee includes for the meal during the project.
Stay/camping/overnight
Volunteers will be camping and staying overnight in the kampung during the project. Please bring your own tent and sleeping bag or any other camping equipment you need.
Tshirt
You may purchase 4x4 t-shirt at RM20/piece.
C/ Briefing
We will have a detailed briefing to explain on the objectives and logistics of this project, please try your best to attend:
Date and time: 25 Aug 2023, 6.30pm
Location: Explorer @ Publika