Learn how to create build design solutions for real life design challenges through collaboration
CLICK HERE TO CHECK OUT OUR PREVIOUS OPEN SOLUTIONS WORKSHOP


Open Solutions Workshop wants to create opportunities for anyone to be able to participate and tangibly contribute towards build desighallenges in an open and cooperative environment. This empathy driven workshop aims to create sensitive, creative and practical designs through working together!

This Open Solutions Workshop will be held over the long weekend (29th April : 10 - 8pm, 30th April - 1st May : 10am - 6pm) where participants would go through a real life design challenge that would equip them with basic skills of collaboration and human-centric design processes. They would learn and practice different collaborative and communication methods to aid in the design process while solving real life build design issues! The Workshop will solve the challenges up till the design stage.
Package
3-Day Open Solutions Workshop
"Intro to Design Thinking" Training
"Community Engagement" Training.

Special Invited Guest for "Collaborative Session"
(30th April 2pm - 4pm)
Seksan (Seksan Designs)
Tat Sing & Wei Ping (Tetawowe)
Engineers Without Borders
and more!

Cost
RM200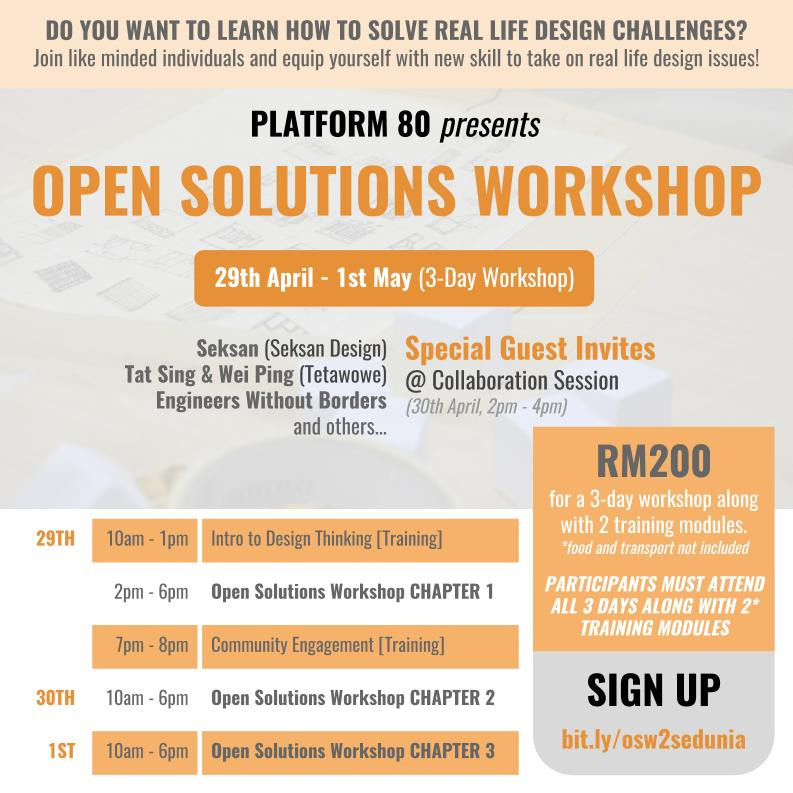 ......